Funny how the guys who compile the catalogs sometimes mismatch completely their target.
In this case let's say that Mark the catalog guy has to catalog this new arrival: Roswell, the Alien Butler Sculpture. What does he think of? "I'm going to present it as the new home decor item for the leading men, so that once he's home from the multinational law office he directs, he can enjoy his Curvoisier sitting by the fireplace". Bad work, Mark the catalog guy!
Change scenario, Mark the catalog guy, and listen to my advice: put it nearby a PC station and let Roswell hold a super-duper-high-caffeinated walky cup with a fluorescent straw! I'd buy it in a minute!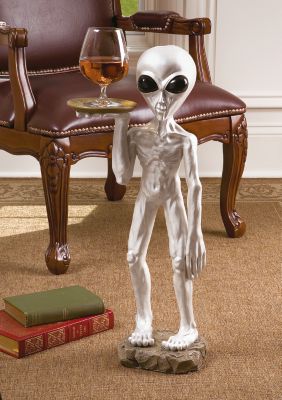 Roswell, the Alien Butler Sculpture: link

Whether you use his flying saucer tray to serve guests or to ponder the mysteries of the galaxies, you're sure to admire the painstaking detail of this fellow from "the beyond." Cast in quality designer resin for use in home or garden, this over-two-foot-tall Toscano-exclusive sculpture lends otherworldly flair and style to any dcor.